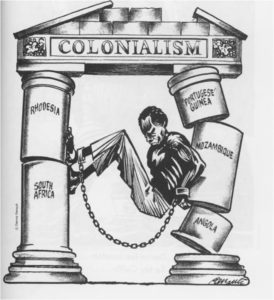 This is a guest post by Sahar Khan, a visiting research fellow in the Cato Institute's Defense and Foreign Policy Department. Sahar holds a PhD in political science from the University of California, Irvine. Follow her at @khansahar1.
The Third World Quarterly (TWQ), a reputable academic journal in international studies, is currently under fire by academics including Ducks. In its latest issue, it published an article titled "The Case for Colonialism" by Dr. Bruce Gilley of Portland State University. In this article, Gilley calls for a return of colonialism, citing the benefits of a "colonial governance" agenda over the "good governance" agenda, which would involve overtaking state bureaucracies, recolonizing some areas, and creating new colonies "from scratch." He argues that this new colonialism will be: 1) beneficial because it will be chosen by "the colonized," and hence, will be legitimate; 2) attractive to Western conservatives because they are financially low-risk, and to liberals, because they will be just; and 3) effective because they will be designed like charter cities, which have proven to be efficient and effective at governance.
At first glance, the article seems like a bad joke. Can someone, a scholar no less, actually make a case for colonialism? And advocate for its return? Also, considering that the TWQ is jointly involved in creating an award named after Edward Said, the founder of postcolonial studies, it is especially surprising that the journal would publish a poor quality article on the subject of colonialism. The response has been swift. Though there are some apologists, social media has exploded with criticism against the author and the journal, even sparking a petition calling for the article's retraction. Within a day, the petition gathered over 1500 signatures, with more signing on.
The problem is not that the article is offensive (which it is). The problem is that it is empirically and historically inaccurate, misuses existing postcolonial scholarship, and largely ignores interdisciplinary approaches to the study of colonial legacies. There are at least five blatant examples of this. Continue reading