This Bridging the Gap post is by BTG co-director Naazneen H. Barma, who also serves as Associate Professor of National Security Affairs at the Naval Postgraduate School.
Hun Sen, the longtime leader of Cambodia, has used almost every tool in the authoritarian playbook to consolidate his grip on power over the past three decades. Things came to a head early this month when one of Cambodia's two premier English-language newspapers, The Cambodia Daily, was forced closed after being blindsided by the government with a $6 billion tax bill that it couldn't possibly pay. Rendering an extraordinary confluence of dictatorial strategies, the newspaper's final issue on September 4, 2017, headlined with the news of the midnight arrest of the leader of the country's only real opposition party.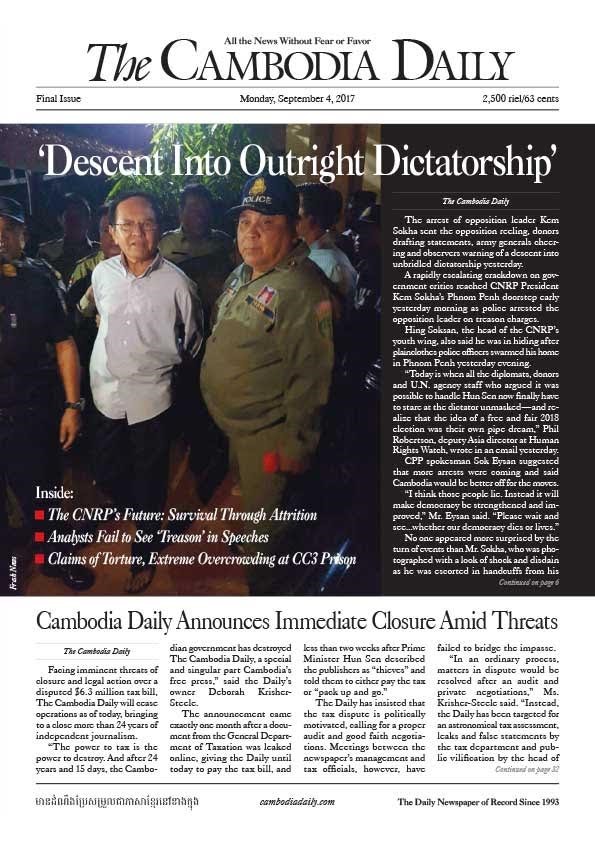 The Cambodia Daily, although a relatively young newspaper—started in 1993 under the civil society opening facilitated by the United Nations—turns out to have been the training ground for a number of prominent commentators on the political scene in Southeast Asia and beyond. Moving tributes to the paper and its tenacious role in Cambodia's nascent and now troubled democracy have poured in. Julia Wallace captured beautifully how the newspaper's aspirations and fate have mirrored those of the country's politics.
The Cambodia Daily's final issue fronted, as pictured above, with Kem Sokha, head of the Cambodia National Rescue Party, being led away from his home in handcuffs on charges of treason. This was only the latest move in the inexorable escalation of Hun Sen's actions against his political foes. One major opponent after another has been swatted away with bribery, violent intimidation, and threats of exile. A once vibrant civil society scene, if still in its infancy, has been dulled to wary unease with similar tactics. Civilian protests about issues ranging from unfair working conditions in the country's sweatshops to corrupt land grabs lining elite pockets and displacing the poor have been clamped down upon as Hun Sen inveighs against "color revolutions." The Voice of America and Radio Free Asia have been silenced in the country; and the U.S.-funded National Democratic Institute has been kicked out.
How did this happen in a nation that seemed one of the most promising harbingers of peace and liberal progress in the immediate aftermath of the Cold War? Sadly, the international community's attempt at post-conflict peacebuilding in Cambodia is at least partly to blame. Continue reading