As a new Duck, who (like Cai & Tom) took a while to consider what to blog about, I finally decided – long-winded academic that I am – to write a series of posts on the #BringBackOurGirls hashtag campaign. To this end, I draw on materials for a keynote I  just delivered at the University of Surrey's Center for International Intervention's conference on "Narratives of Intervention: Perspectives from North and South" (#cii2015). Here I go: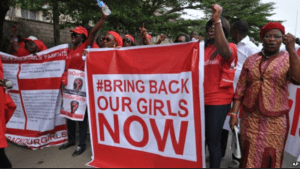 On April 14, 2014, 276 girls between the ages of 15-18 years were abducted from a school in Chibok, Northern Nigeria, days before they were set to take their final exams. A group named Jama'atu ahlis Sunna Lidda'awati wal-Jihad, better known as Boko Haram, claimed responsibility for the abduction. The girls' kidnapping, despite its spectacular scale, initially received sparse attention in the media. However, after local activists took to twitter with the hashtag #BringBackOurGirls on April 23, within a matter of days (by May 1, 2014), the hashtag was trending globally and the mainstream media began to cover the event putting increased pressure on the Nigerian (but also the U.S.) government to 'do something.'
The impulse to demand that 'something' be done is of interest in the context of campaigns of global feminist solidarity in particular, because presumably well-meaning efforts often have adverse effects. The attention provided by global campaigns, such as the hashtag campaign for #BringBackOurGirls, brings greater awareness to the plight of women and girls around the world, but at what cost? Is awareness, even if it is based on simplistic narratives and promotes 'solutions' disconnected from the reality on the ground, helpful? Does it matter when celebrities hold a #BringBackOurGirls sign – or do we need a more critical stance, as Ilan Kapoor has argued? What does it mean for the first lady of the U.S. to remark on the abduction during her 2014 Mother's Day address and to call for action?